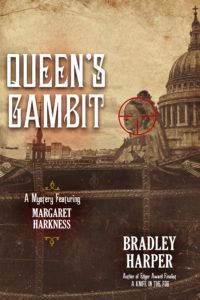 I encountered John DeDakis at a seminar he held in Nashville in 2015. I'd rewritten my novel eighteen times by the time we met and been turned down by about forty agents. John took me under his wing and after extensive revisions over nine months I was able to acquire a west coast agent. Five publishers bid on my book and we finally settled on a two-book contract with Seventh Street Books. My debut novel,
A Knife in the Fog
, was a finalist for the Edgar Award for Best First Novel (one of five finalists out of fifty-five nominations), and the audiobook won Audiofile Magazine's 2019 Earphone Award in the category of Mystery and Suspense.
Queen's Gambit
won Killer Nashville's 2020 Silver Falchion Award both as Best Suspense and as Book of the Year.
I credit John with getting me to this level of success at least two years quicker than I'd have done on my own, if at all. He let me write my book, pointing out what worked and what didn't, and why. I think the most important thing he did for me was to help me find my voice, and to trust it. I have directed friends of mine who aspire to become successful writers to seek him out. His advice is practical and clear; the results speak for themselves.
I'm certain I would not be a published author without John's guidance and advice. As I developed my novel's manuscript, he provided invaluable input related to my main character and the related storyline. His advice ranged from high level input - "you need a sub plot" - to pragmatically useful - "find some things about each character you can repeat. That way the reader can more easily identify them as they reappear." More importantly, John respected who I wanted to be as a writer. He didn't try to make me into something I wasn't. Instead, he helped me develop my own style and tell the story I wanted to tell. I recommend John to anyone, no matter where they are on their writing journey. - Steven Rogers -- Author,
Into the Room
From the Acknowledgments page: "John DeDakis, writing coach extraordinaire, has an amazing ability to identify strengths and weaknesses. In addition, his input is always provided with tact and grace."
IAs a first-time author, my knowledge of writing and editing consisted of "drink fourteen cups of coffee and spill stream of consciousness onto paper." In 2017, I battled Stage Three ovarian cancer and endured eighteen chemo sessions, a hysterectomy, and a splenectomy. Once the nausea (and resentment) subsided, I decided to publish a memoir, hoping my experience would help other people facing the same adversity. I condensed twelve months of diary entries into a couple hundred pages and titled the saga
Dear Diary, Does This Cancer Make My Ass Look Fat?
I documented my struggles, fears, and vulnerabilities in a raw, unfiltered tone, but something felt off about the manuscript and I couldn't pinpoint the source. I clumsily attempted to edit the memoir (twice), but after pulling out the few hairs I had left (thanks, chemo!), I realized I needed a professional. Luckily, John DeDakis came onboard after an introduction from a mutual friend.
I thought I only needed simple grammatical corrections, but John quickly identified conceptual issues that made my story drag. He also presented several poignant questions that reshaped the final half of my memoir and prompted me to develop the concluding post-cancer key takeaways (which are now my favorite part of the book).
I've received an overwhelming amount of positive feedback from cancer survivors, caregivers, colleagues, PR contacts, media, and other authors - much of which I credit to John. His brilliant insights and editing prowess transformed my frenzied inner monologue into a polished, flowing memoir that I'm truly proud of. ~Kimberly Tronic - Author,
Dear Diary, Does This Cancer Make My Ass Look Fat?
One thing I noticed when I moved from medicine to writing is the lack of vetted experts making it hard to know where to get good, solid information on the practical aspects of writing. You really help fill that void.
Dr. Diane Helentjaris Leesburg, Virginia
The class was a good mix of lecture/informative material and practical, hands-on assignments. I love that you brought your whole being into the workshop. This wasn't an academic "here's some information on writing," but here's a particular writer's life, inspiration, and practical tools. I also admire that you were so vulnerable and open with your struggles and losses and how you took your grief and molded it into art.
Maliha Balala The Writer's Center Bethesda, Maryland
John DeDakis's 2.5-hour workshop was power-packed with all I need to up my game as I continue my efforts to write a novel. In a concise, personal way, John walked us through a methodology that makes this insurmountable task seem possible.
Susan Feit Social Justice Strategist
Norfolk, Virginia